Days of Operation: Tuesday, Thursday; Year-round (weather permitting)
Private: Customize for small private groups only!
Duration: 8.0 hours
Price: $100.00 per adult (Age 13+), $50.00 per child age 0-12
Includes: Hotel pick-up from select Bend hotels, Tour Guide, all entrance fees, activities listed.
Required: Closed toe shoes for hiking at Smith Rock. Flip flops, sandals, or shoes with heels are not allowed.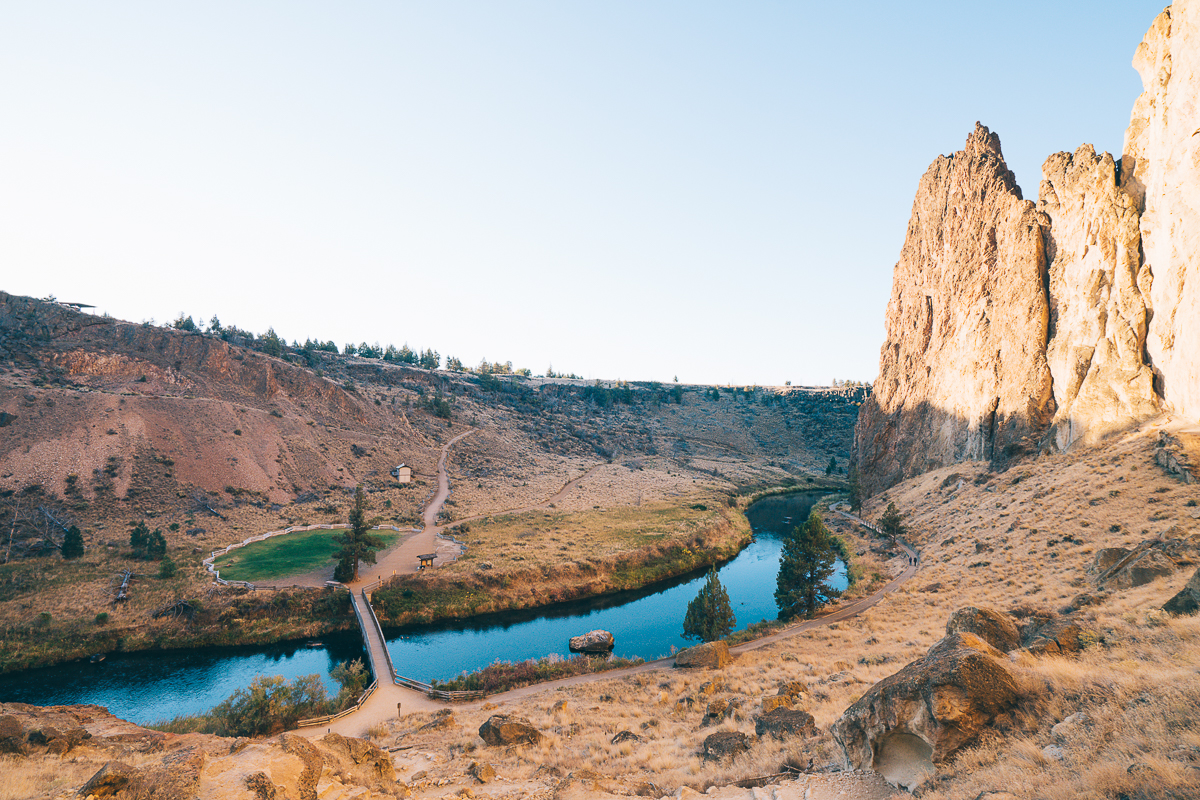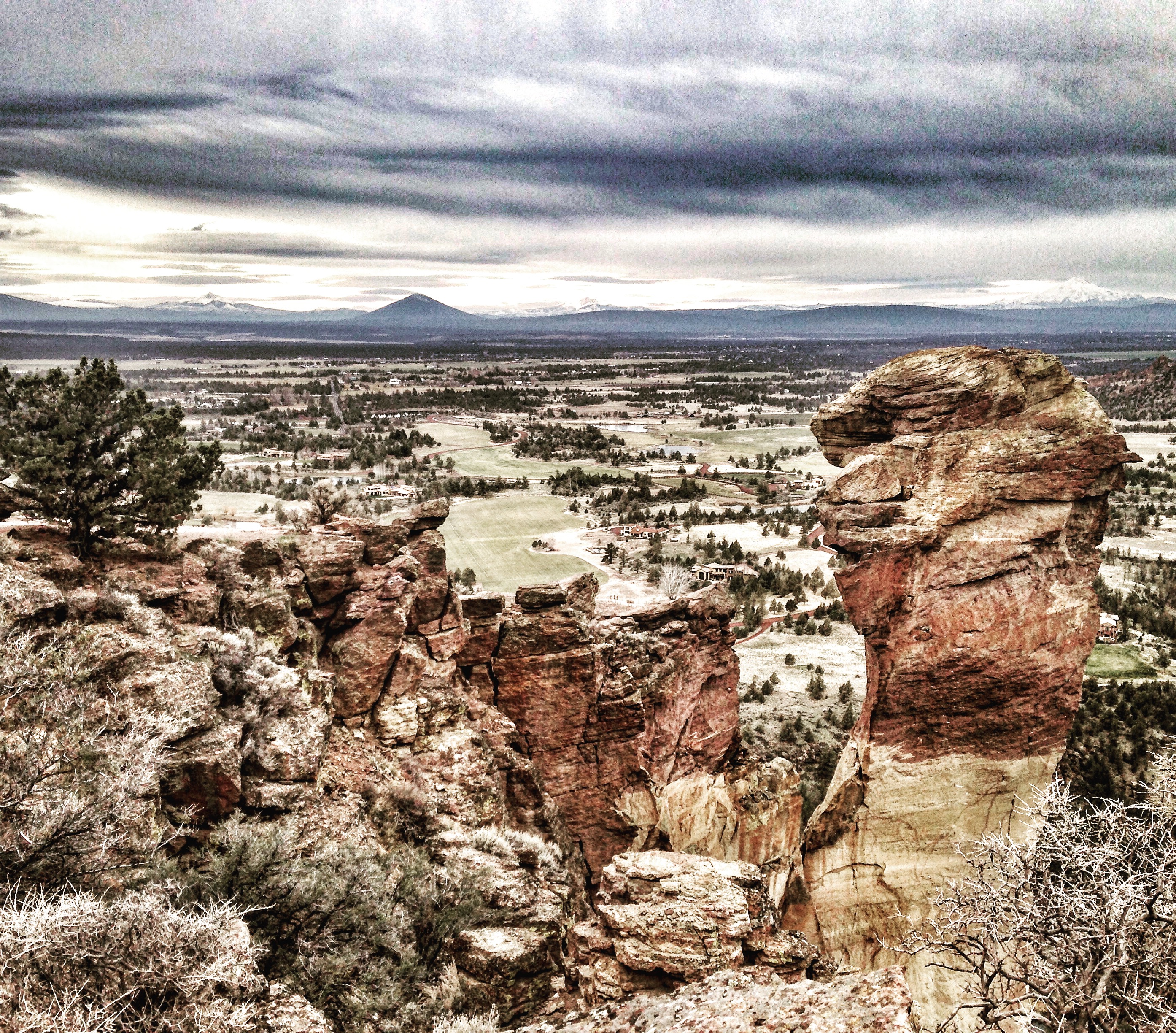 Loading…
Start your day off with a hike at Smith Rock State Park! Upon our arrival at the park you will enjoy a wonderful hike along the Crooked River.  As we hike along this family friendly trail don't be surprised if you see River Otters swimming in the river, or Golden Eagles nesting in the cliff faces.  You will also see rock climber scaling the faces of the cliffs and climbing Monkey Face!  Smith Rock is Oregon's premier rock climbing destination, and one of the best sport climbing areas in the United States. This world-renowned sport climbing mecca has more than once been at the focal point of the climbing world. Extensive development took place in the 1960s, 70s, and 80s by locals and international climbers alike, who put up scores of classic climbs on the tuff and basalt cliffs; development continues to this day with new moderates and cutting-edge routes going up each year. The distance we will hike depends on the size of the group and the ability levels of everyone hiking.
After exploring Smith Rock we will stop for lunch (not included in price) in the town of Sisters, Oregon.
When you pull into the Old West town of Sisters, you'll feel like you're making a getaway. This friendly little outpost in the foothills of the Cascade Mountains draws visitors for its profound natural beauty as well as annual celebrations like the Sisters Rodeo, the Sisters Quilt Show (held the second Saturday in July) and the Sister Folk Festival (drawing crowds in September).
In Sisters you will find unique shops and art galleries that make shopping more than just retail therapy. It's a cultural experience.  Sisters is proud of its reputation as an arts community and is home to a vast number of incredibly talented individuals. Many unique galleries featuring clay work, sculpture, photography, paintings, jewelry, fiber art and much more can be found throughout Sisters. And most recently Sisters Country is very proud of its growing collection of Public Art.
After your afternoon in Sisters we will drive you back to your hotel in Bend.
---
Terms and Conditions
Customized and Private Tours: All tours can easily be customized and/or made private. Please contact us for details and pricing.
Tour Price Includes: Guest pick up and drop off, transportation and tour guide, and all applicable fees, unless otherwise stated.
Not Included in Price: Gratuity and lunch. You will have an opportunity to purchase lunch and/or snacks along the way.
Requirements: Tours require a 4-person minimum for confirmation. Please contact us for current tour times and availability.
Payment: Reservations can be made on-line or by phone with a credit or debit card. Payment will be processed immediately to secure your reservation. Payment on the day of pick up will not guarantee your reservation. Cash payments will be accepted at the time of tour.
Reservations: All reservations are final at time of booking. We recommend two weeks in advance for reservations especially during our high volume seasons. If you are scheduling a tour without prior reservations, please call to confirm departure and availability.
Cancellation Policy: If you cancel at least 7 days in advance of the scheduled departure, there is no cancellation fee.  If you cancel between 3 and 6 days in advance of the scheduled departure, there is a 50 percent cancellation fee.  If you cancel within 2 days of the scheduled departure, there is a 100 percent cancellation fee.
Other Entities: America's Hub World Tours (AHWT) will not be held responsible for cancelations, changes to services/fees/price, conduct, of quality of goods and services for entities that operate under any name other than AHWT including, but not limited to: vendors, tour operators, vineyards and wineries, event staff, hotels, transportation companies, restaurants and entertainers.
Weather: Unless otherwise noted and specified all services are planned to operate regardless of weather. In the event of an "Act of God" and weather presents a safety issue AHWT will offer other tours to consider. There will be no reimbursements, full or partial, for inclement weather experienced during any service provided. It is the responsibility of the guests to be prepared for predicted weather and dress accordingly.
Conduct: AHWT assumes no responsibility for conduct of individuals other than its guides/employees/officers.
Indemnify: Except as otherwise prohibited by law each party shall indemnify and hold the other party harmless from all claims, actions, suits, losses, and expenses of any nature for its employees or subcontractors, breach of their agreement, negligence or intentional misconduct.
Insurance: America's Hub World Tours (AHWT), will ensure all tour operators and bus companies provide insurance coverage for all vehicles utilized while providing services.
No smoking or consumption of alcohol or intoxicating drugs is allowed in vehicles. America's Hub World Tours (AHWT) is not responsible for articles left in vehicles. A $200 minimum damage/cleaning fee resulting from customer misuse will be automatically charged. All passengers are responsible and liable for their own actions while in vehicles; neither the driver nor the company is responsible or liable for any injury or damage caused by, or as a result of any customer actions. America's Hub World Tours (AHWT) is not in control of traffic, and therefore takes no responsibility for time delays due to traffic.
The State of Oregon requires all parents with children requiring car seats to use them. Minor-age passengers must be restrained in approved child safety seats until they weigh forty pounds or reach the maximum weight limit for the car seat in use. Infants must ride rear-facing until they reach both one year of age AND weigh at least twenty pounds. America's Hub World Tours (AHWT) does not supply car seats; if you did not bring one, your hotel may be able to recommend rental locations, and some locations will deliver to hotels.
For more information regarding the many other tours we offer please visit us at: http://americashubworldtours.com/2019