We take the safety of our guests and Tour Guides seriously.  Click this link to view the safety procedures that will be followed on all tours: Tour Safety Procedures
Click this link to view a video of this tour: Portland City / Gorge Combo Tour
Experience the most popular tour of Portland and the Columbia River Gorge available anywhere! Join us for a comprehensive introduction to the City of Portland and the Columbia Gorge National Scenic Area, which includes detailed visits, magnificent views and concise information of the area's best attractions. The tour combines some of the most iconic and unique places in Portland and Oregon City with the natural beauty and splendor of the waterfalls, scenic vistas, and historical sites in the Columbia River Gorge.
Highlights:
-Bring a camera! The views of Portland, Oregon City, Multnomah Falls & Gorge Waterfalls are spectacular.
-You will experience the best sites in and around Portland including the International Rose Garden, Pioneer Courthouse Square, the best shopping area in Portland, Tilikum Crossing, Lake Oswego, Willamette Falls, the Oregon City Municipal Elevator, and downtown Oregon City. You will learn what makes the citizens of these areas so diversified, and learn the cultural history of these unique Pacific Northwest towns & cities.
-Explore the Columbia River Gorge! Site we may visit include: Portland Women's Forum, Vista House, Latourell Falls, Bridal Veil Falls, Multnomah Falls and more.
Itinerary:
Downtown Portland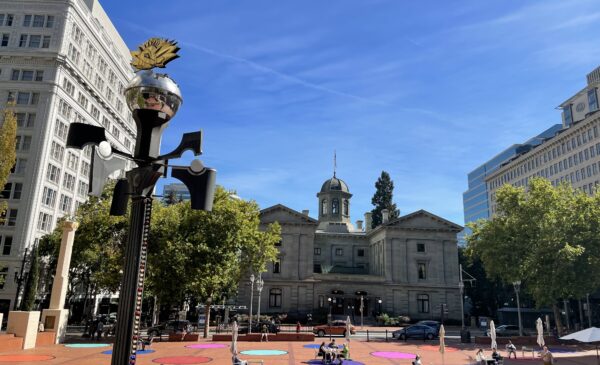 Enjoy the sites of Pioneer Square and learn about the great diversity found in Portland's downtown area, the historical importance it has played in the state's history and the fast-growing culture that exists in the City of Portland. Learn about the final resting place of many prominent and notable citizens of Oregon, including many governors and United State Senators and other notable burials in the City of Portland.
International Rose Test Garden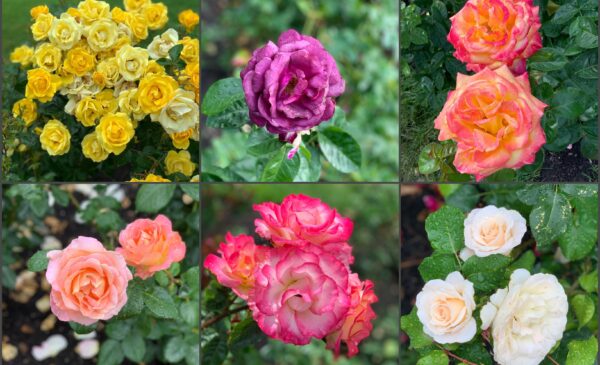 Let the fragrance of our Rose Gardens embrace your senses with over 600 roses and be delighted with the beautiful Washington Park nature, featuring some of the most amazing  city & mountain views around.
More than 10,000 individual rose bushes bloom in the International Rose Test Garden from late May through October, representing over 610 different rose varieties. The majority of roses in the Garden are commercially available. About 10 to 20 varieties are replaced each year with some of the best new roses released onto the market. We will visit the rose garden seasonally.
NW 23rd Avenue
This avenue is the heart of the Nob Hill District and is filled with century-old Victorian and Craftsman-style storefronts housing unique boutiques alongside national retailers, interspersed with coffee shops and on-trend restaurants and bars. In short, it's a shopper's and diners paradise.
Tilikum Crossing
The largest car-free bridge in the U.S., Tilikum Crossing carries MAX trains, buses, streetcars, cyclists, and pedestrians over the Willamette River.  With a pair of wide paths, the span offers both pedestrians and cyclists ample room to slow down and appreciate its carefully considered details: Angles formed by the cables mirror the outline of Mount Hood, which rises in the background. (The angle is repeated elsewhere, including atop the tower pylons.) "Tilikum" means "people" in the local Native Chinook language, hence the nickname "Bridge of the People." There are nods to nature, too, with osprey nesting poles at either end and a "sonic dish" art installation on the east bank that amplifies the sounds of the river.
Willamette Falls
Willamette Falls is the second most powerful by volume waterfall in North America and an important Oregon historical and cultural treasure.  As the last stop along the Oregon Trail, pioneers settled the area around the Falls starting in the mid-19th century –  before there were paper mills, canals or locks, long before the wagon trains arrived for centuries, Willamette Falls has been a significant cultural, fishing and gathering place for Native American Tribes, including the Confederated Tribes of Grand Ronde, the Confederated Tribes of Warm Springs, the Confederated Tribes of the Umatilla Indian Reservation, the Confederated Tribes of Siletz Indians, and the Confederated Tribes and Bands of the Yakama Nation. Some have maintained treaty rights to the yearly lamprey harvest still to this day.
Oregon City Municipal Elevator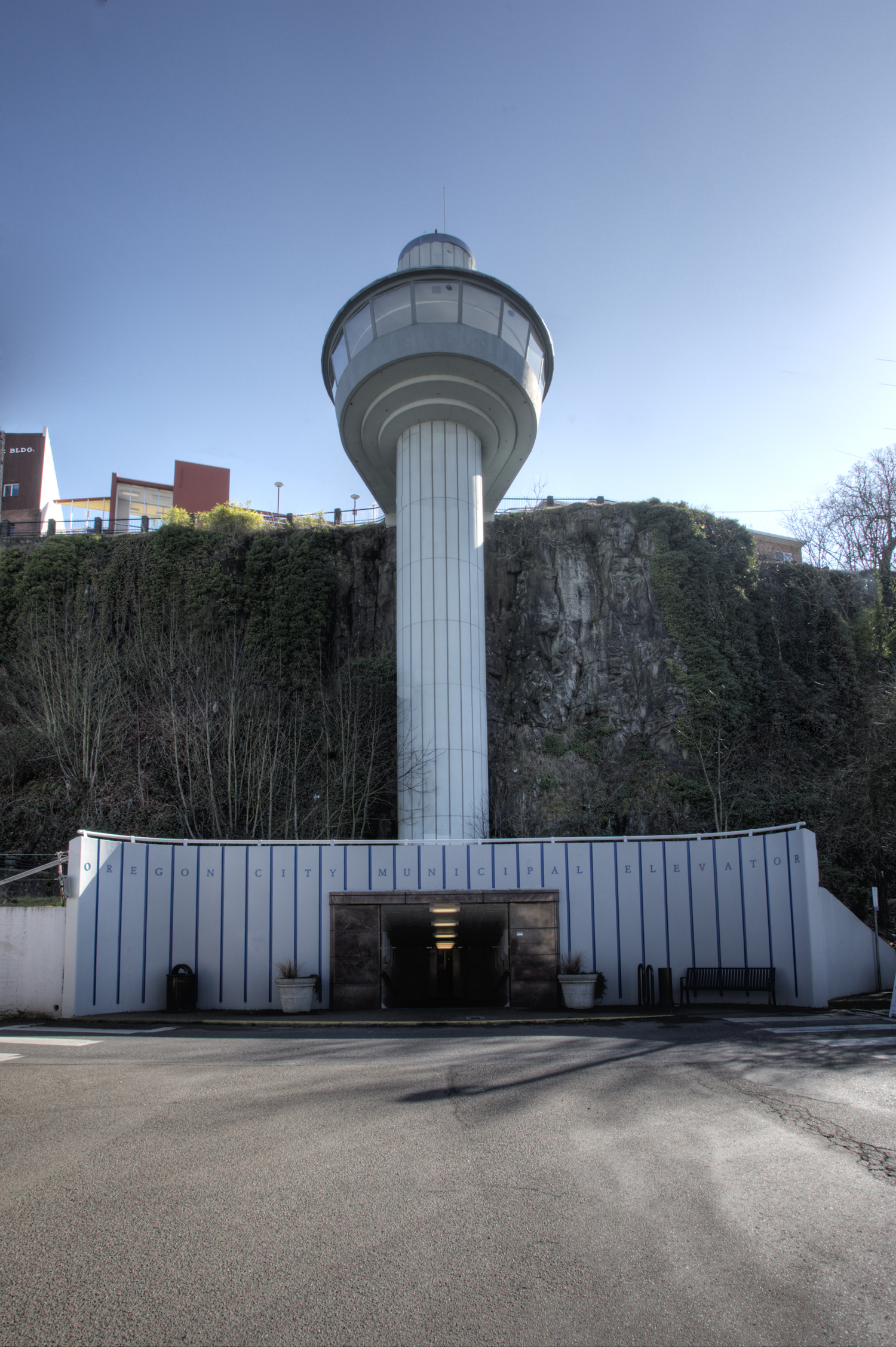 The Oregon City Municipal Elevator is a 130-foot elevator that connects two neighborhoods in Oregon City—downtown and the historic McLoughlin neighborhood. The upper portion contains an observation deck which accounts for its flying saucer appearance. The only one of its kind in the country and one of only four in the world, the current municipal elevator was completed in 1955 and was added to the National Register of Historic Places in 2014.
Oregon City
Oregon City boasts an impressive list of "firsts": first incorporated city west of the Rocky Mountains (1844), Oregon's first capital (before it was even a state) and the country's first long-distance electric line (Willamette Falls to Portland, 1889).  But it's actually Oregon City's last-place status that fascinates many modern-day visitors: Located just 15 miles southeast of Portland, alongside the Willamette River and a dramatic, tiered waterfall, Oregon City served as the final wagon stop on the amazing Oregon Trail journey. And today, thanks to its rich history and recent historic restoration projects, Oregon City remains as much a destination as ever. While here you will have time to have lunch and explore this delightful downtown.
Photographs courtesy of www.travelportland.com and www.mthoodterritory.com
Columbia River Gorge Waterfalls
The great ice age Lake Missoula Flood left scars literally from Montana to the Pacific Ocean. Join us as we explore the waterfalls, scenic highways, vistas while our tour guides share information by uncovering the verbal images of the Lake Missoula Flood in Northwest Oregon & Southwest Washington.
As we journey along the Historic Columbia River Highway stops may include: Portland Women's Forum, Crown Point Vista House, Latourell Falls, Bridal Veil Falls, Multnomah Falls, and Horsetail Falls.
Crowne Point Vista House
Perched atop one of the most panoramic overlooks in the Columbia River Gorge, Vista House provides the most majestic view of the Gorge. Often referred to as "The Crown Jewel of the Columbia River Gorge," Vista House was built between 1916 and 1918 as a memorial to Oregon pioneers, a scenic viewpoint, and a comfort station for those traveling on the newly constructed Historic Columbia River Highway. The Vista House and the view it offers are sure to amaze and inspire you.
Latourell Falls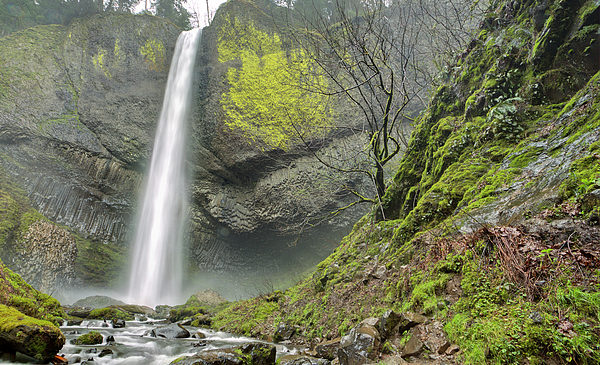 This dazzling waterfall plunges 249 feet (76 m) over a massive wall of basalt and then rushes through the forest into the Columbia River. The falling water of Latourell is framed by some of the most perfect columnar basalt formations in the Pacific Northwest that are adorned with a large florescent patch of yellow lichen and shrouded in brilliant green flora. We'll venture down to the punch-bowl pool below the falls, where you'll hear the tremendous rush of water and feel the cool mist that it creates. You'll easily realize why this special place is one of the most photographed waterfalls in Oregon.
Multnomah Falls
Fed by underground streams that originate miles above on Larch Mountain, this ancient 620 foot (189 m) waterfall is divided into two sections; the upper falls plummets an impressive 542 feet into a pool and again drops 69 feet to form a creek that runs into the Columbia River. Multnomah Falls is the second highest year-round waterfall in the United States and the highest in Oregon, and is Oregon's number one natural attraction closest to Portland, drawing over 2.5 million visitors a year from around the world. At the base of the waterfall sits the Historic Multnomah Falls Lodge, a full-service day lodge complete with restaurant, gift shop, snacks bar, coffee kiosk and interpretative center.
Horsetail Falls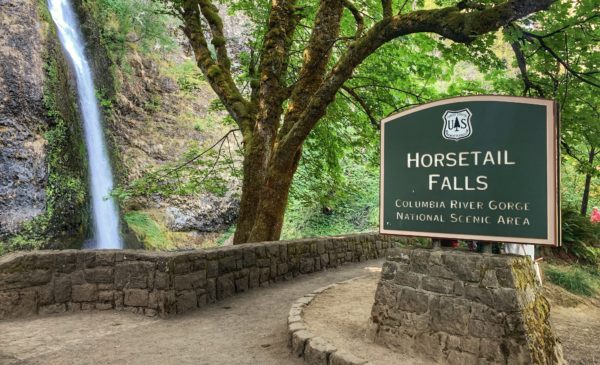 Horsetail Falls was named for its distinctive form and plunges 176 feet. The trail leads to Upper Horsetail Falls, also called Ponytail Falls. There the trail leads behind the base of the Falls. Horsetail Falls is a great opportunity to stop and take some photos or simply enjoy the beauty of the surrounding area.
Customized and Private Tours: All tours can be customized and/or made private. Please contact us for details and pricing.
Tour Price Includes: Pickup & Drop off, transportation and tour guide. No entry fees on public tours, All applicable fees only on private tours, unless otherwise stated.
Not Included in Price: Gratuity and lunch.
Requirements: Tours require 4 person minimum for confirmation. Please contact us for current status of tour.
Payment:  On-line reservations can be made or via phone using a credit or debit card. Payment will be processed immediately to secure your reservation. Payment on day of pick up will not guarantee your reservation. Cash payments are accepted at time of tour.
Cancellation Policy: If you cancel at least 7 day(s) in advance of the scheduled departure, there is no cancellation fee. If you cancel between 3 and 6 day(s) in advance of the scheduled departure, there is a 50 percent cancellation fee. If you cancel within 2 day(s) of the scheduled departure, there is a 100 percent cancellation fee.
Reservations:  All reservations are final at time of booking. We recommend two weeks in advance for reservations especially during our high volume seasons. Walk-ins please call to confirm departure and availability.
Terms and Conditions
I. Other Entities: America's Hub World Tours (AHWT) will not be held responsible for cancellations, changes to services/fees/price, conduct, of quality of goods and services for entities that operate under any name other than AHWT including, but not limited to: vendors, tour operators, vineyards and wineries, event staff, hotels, transportation companies, restaurants and entertainers.
II. Weather – Unless otherwise noted and specified all services are planned to operate regardless of weather. In the event of an "Act of God" and weather presents a safety issue AHWT will offer other tours to consider. There will be no reimbursements, full or partial, for inclement weather experienced during any service provided. It is the responsibility of the guests to be prepared for predicted weather and dress accordingly.
III. Conduct –AHWT assumes no responsibility for conduct of individuals other than its guides/employees/officers.
Indemnify: Except as otherwise prohibited by law each party shall indemnify and hold the other party harmless from all claims, actions, suits, losses, and expenses of any nature for its employees or subcontractors, breach of their agreement, negligence or intentional misconduct.
Due to the nature of this tour and the safety of all guests, the tour operator reserves the right to refuse service to passengers who are intoxicated or show signs of intoxication. If, as a result, your tour is canceled, you will not be entitled to a refund.
Insurance: America's Hub World Tours (AHWT), will ensure all tour operators, and bus companies provide insurance coverage for all vehicles utilized while providing services.
Cancellation Policy: If you cancel at least 7 day(s) in advance of the scheduled departure, there is no cancellation fee. If you cancel between 3 and 6 day(s) in advance of the scheduled departure, there is a 50 percent cancellation fee. If you cancel within 2 day(s) of the scheduled departure, there is a 100 percent cancellation fee.
No smoking in Vehicles; No alcohol drinking in vehicles! Not responsible for articles left in vehicles! There will be a $200 minimum damage/cleaning charge resulting from customer misuse. All passengers are responsible and liable for their own actions while in this vehicle; neither the driver nor the company is responsible or liable for any injury or damage caused by or as a result of any customer actions. We are not in control of the traffic and therefore take no responsibility for time issues due to traffic.
The state of Oregon requires all parents with children requiring car seats to use them. Child passengers must be restrained in approved child safety seats until they weigh forty pounds or reach the upper weight limit for the car seat in use. Infants must ride rear-facing until they reach both one year of age AND twenty pounds. We do not supply car seats; if you did not bring one the hotel can recommend rental locations. Some will deliver to hotels.
Oregon Tour Experts,  and other local partners in collaboration with America's Hub World Tours are offering to bring you the best and most complete tour experience available.
For more information regarding the many other tours we offer please visit us at: https://americashubworldtours.com/2019